In the last three days of 4,5,6 August, at FLC Sam Son, the 10th anniversary of Thien Hoang Company (2007 - 2017) took place with a series of extremely meaningful and monumental activities.
2017 marked an important event when Thien Hoang Company turned 10 years old. With 10 years of building and development, up to now, Thien Hoang has proudly overcome all difficulties and challenges, constantly growing to become a reputable software service and solution company in Vietnam.
Marking a special milestone to celebrate the 10th anniversary of Thien Hoang Company (June 12, 2007 - June 12, 2017), right from the first days of June, Thien Hoang promoted communication activities in staff on this special event. Many activities were organized to enhance the collective spirit, create strong solidarity among members, creating motivation for further striving for the development of the Company.
Accompanying the chain of activities to celebrate 10 years of Thien Hoang's establishment, with the message "Smile and step forward", in order to connect and honor that Smile, Thien Hoang organized the contest "Thien Hoang Smile"
Along with that is the "Thien Hoang Football Cup". Mini football tournament has attracted the participation of 06 teams from centers including: Center 1, Center 2, System Integration Center, RnD Center. This mini football tournament is not only meant to celebrate the establish anniversary of the company, but also contributed to promoting the sports practice movement, creating a healthy and rewarding playground, enriching the spiritual life, improve physical health for staff.
As part of a series of activities to celebrate the 10th anniversary, it is impossible not to mention the "Duet Peak" contest. In order to encourage the duet performances with men and women staged, songs with the theme praising love, youth ... The prize structure includes 1 First Prize, 1 Second Prize, 1 Third Prize and 2 Encourage Prizes.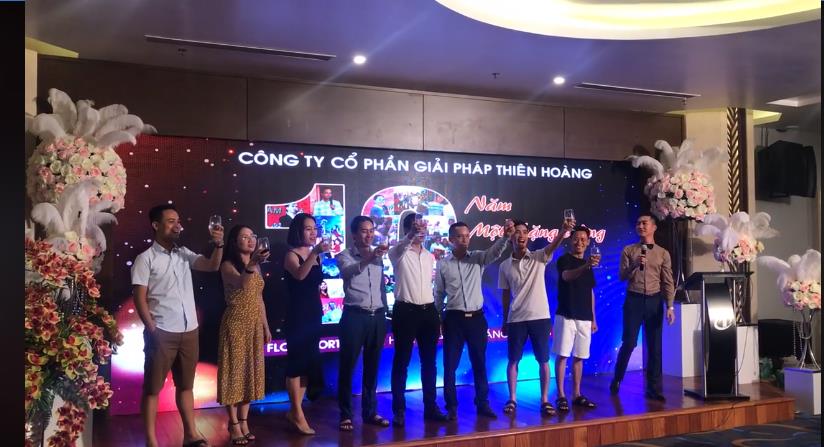 gfffu
Final is the trip to connect Thien Hoang's employees with interesting experiences at FLC Sam Son Thanh Hoa. The trip not only helps to energize each individual but also contributes to the bond of collective friendship. Teambulding games are all geared towards teamwork to create cohesion, the most effective way to solve the job.
Sharing in the 10th anniversary of the establishment, Mr. Nguyen Trung Kien - President sent his sincere thanks to the customers, partners of Thien Hoang in local and abroad for being present at the ceremony, in particular, he emphasized that all parties have overcome the trade relationship to become intimate friends and consensus for a common goal of joint development of Vietnam's human resources.
Thus, the 10th anniversary of Thien Hoang's establishment is not only an opportunity for every employee to congratulate the past pioneering achievements but also a time to look forward to the future and try to create greater value, contributing to the overall development of the company.